IN THESE UNPRECEDENTED TIMES, THERE IS A NEED TO CREATE A TRULY VIRTUAL EVENT. ONE WHERE AUDIENCE AND PRESENTERS ALIKE ARE CONNECTING REMOTELY TO DELIVER A HIGH QUALITY SESSION WHICH ACHIEVES YOUR OBJECTIVES.
STAGESTRUCK'S ENGAGE LIVE GOES BEYOND THE LINEAR 'WEBINAR' BROADCAST, TO CREATE A PLATFORM THAT ENABLES LIVELY PANEL DISCUSSIONS, SEAMLESS AUDIENCE INTERACTION AND SPONSOR ENGAGEMENT
STAGESTRUCK HAS A TRACK RECORD OF DELIVERING HYBRID AND BROADCAST EVENTS. WE HAVE NOW EXTENDED OUR OFFERING TO MEET THIS CHALLENGE OF DELIVERING A TRUE VIRTUAL EVENT THAT GOES BEYOND SUPPLYING A TECHNOLOGY PLATFORM. FROM AGENDA PLANNING TO PRESENTER BRIEFING, OUR VIRTUAL EVENTS KEEP TRUE TO OUR 'SHOW' MENTALITY AND ENSURE THAT THEY ARE IMPACTFUL FOR ALL STAKEHOLDERS
YOUR AUDIENCE WILL

ENGAGE WITH AN EVENT THAT HAS BEEN PLANNED FOR A VIRTUAL ENVIRONMENT

CONNECT USING A SIMPLE WEBLINK ENABLING THEM TO ACCESS THE EVENT WITH ANY TECHNOLOGY

ACCESS TOOLS THAT ALLOW INTERACTION WITH SPEAKERS AND PANELLISTS

ATTEND INVITE-ONLY SPONSOR OR BREAKOUT SESSIONS FOR SMALLER GROUP NETWORKING

YOUR PRESENTERS WILL

PARTICIPATE IN PRE-EVENT BRIEFING AND TECHNOLOGY CHECKS TO ENSURE ALL RUNS SMOOTHLY ON THE DAY

JOIN A VIRTUAL GREEN ROOM ON EVENT DAY TO MEET WITH THE MODERATOR AND ENSURE THEY ARE FULLY BRIEFED AS A PANEL

ACCESS TOOLS SUCH AS VIRTUAL Q-LIGHT TO SEAMLESSLY INTEGRATE VIDEOS AND SLIDES

INTERACT WITH EACH OTHER THROUGH A MODERATOR-LED MESSAGING SYSTEM TO ENSURE THE PANEL SESSION RUNS SMOOTHLY

YOUR SPONSORS WILL

HAVE VISIBLE BRANDING AT ALL TIMES

CONTINUE TO SEE THE INTEGRATION OF MEDIA TO ENSURE THAT THEIR BRAND IS REFERENCED AT THE BEGINNING AND END OF SESSIONS

BE ABLE TO CREATE BREAKOUT ROOMS FOR SMALLER, SPONSOR LED SESSIONS

SET UP VIRTUAL NETWORKING CHAT ROOMS TO ENSURE ONE TO ONE ENGAGEMENT WITH THE AUDIENCE

YOUR STAKEHOLDERS WILL

BE SUPPORTED BY A PLATFORM THAT STAYS TRUE TO BROADCAST DISCIPLINES FOR ALL PARTICIPANTS

BE REASSURED THAT THE PLATFORM IS MANAGED BY STAGESTRUCK, AND DELIVERED USING WORLD-CLASS TECHNOLOGY ACROSS LEADING GLOBAL CDNS

BENEFIT FROM STAGESTRUCK'S 35 YEARS EXPERIENCE DELIVERING SHOWS AND EVENTS
FORMATS
ENGAGE LIVE PROMOTES CONVERSATION, DISCUSSION AND DEBATE BY SUPPORTING TRADITIONAL EVENT FORMATS SUCH AS:
INTERVIEWS AND FIRESIDE CHATS
PRESENTATIONS
PANEL AND ROUNDTABLE DISCUSSIONS
VIRTUAL NETWORKING AND BREAKOUT ROOMS
ALTERNATIVE PROGRAMME FORMATS CAN ALSO BE DESIGNED TO BETTER SUPPORT AUDIENCE ENGAGEMENT, SUCH AS A VIRTUAL MAGAZINE-STYLE PROGRAMME FOR EXAMPLE
UNLIKE MOST 'OUT OF THE BOX' SOLUTIONS, OUR EXPERIENCED CONTENT PRODUCERS AND DESIGNERS CAN WORK WITH YOU TO CREATE A TRULY BESPOKE EXPERIENCE
FUNCTIONALITY
EVENT AND SPONSOR BRANDING
AUDIENCE Q&A
LIVE POLLING AND TEMPERATURE CHECKS
VIRTUAL Q-LIGHT FOR INTEGRATED SPEAKER SUPPORT
(SLIDES, VIDEO, ANIMATIONS ETC)
CLOUD-BASED CONTENT MANAGEMENT
PRESENTER GREEN ROOM FOR PRE-EVENT BRIEFING
PRESENTERS' IN-BROADCAST CHAT FUNCTION
SECURE REGISTRATION
LIVE EVENT SUPPORT
ANALYTICS
POST-EVENT ON-DEMAND HOSTING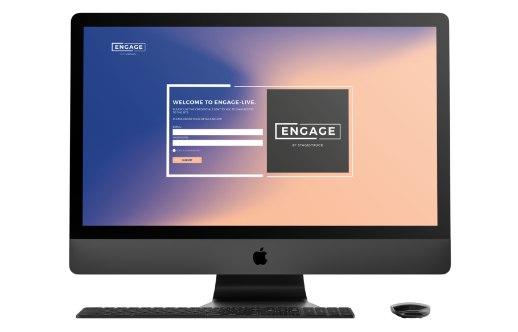 EACH ATTENDEE IS PROVIDED WITH A ONE-TIME LOG IN TO ENSURE THAT THE EVENT STAYS SECURE, ALL INTEGRATED WITH YOUR EXISTING CLIENT REGISTRATION SYSTEMS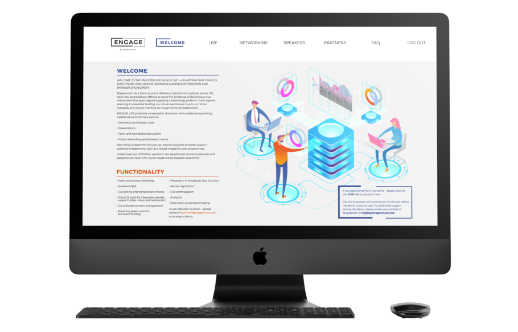 THEY ARE GREETED BY A FULLY BRANDED WELCOME LANDING PAGE WITH EVENT DETAILS AND LINKS FOR ASSISTANCE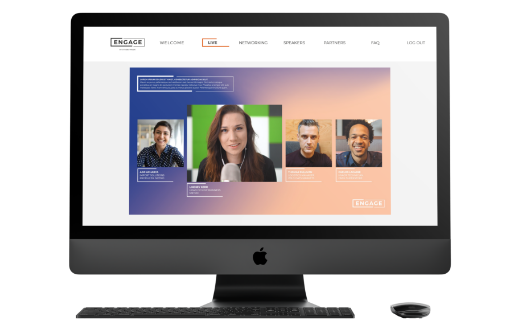 THE PANEL SESSIONS BRING IN PRESENTERS FROM DIFFERENT LOCATIONS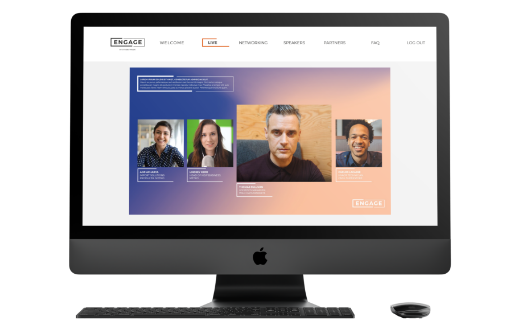 THE PERSON PRESENTING IS ALWAYS GIVEN PROMINENCE. THIS IS DIRECTOR LED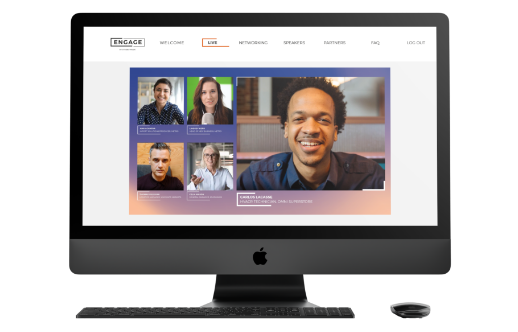 THE LAYOUTS ARE BESPOKE AND BUILT FOR YOU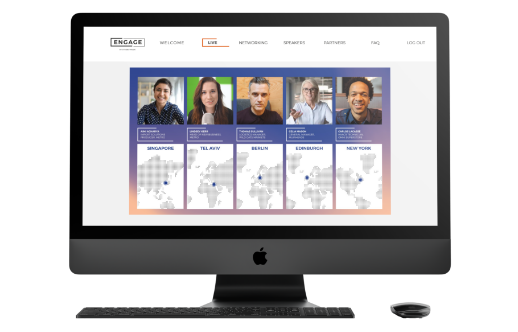 THEY CAN BE CHANGED TO REFLECT YOUR PREFERRED FORMATS, NUMBER OF PARTICIPANTS AND TOPIC OF THE PANEL SESSION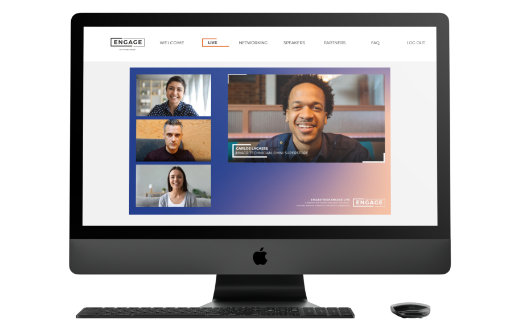 THE USER INTERFACE CAN BE STYLED IN ACCORDANCE WITH YOUR EVENT BRANDING. IT IS A COMPLETELY BESPOKE SYSTEM AND CAN BE DRIVEN BY YOUR EVENT REQUIREMENTS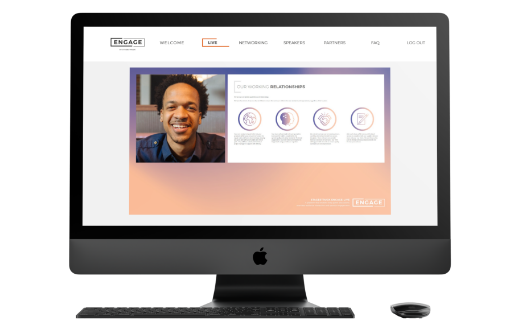 MEDIA CAN BE BROUGHT IN AS REQUIRED TO SUPPORT THE PRESENTERS. THIS CAN BE VIDEO OR SLIDES AS REQUIRED
LIVE Q&A, POLLING AND TEMPERATURE CHECKS ARE EMBEDDED IN THE PLAYER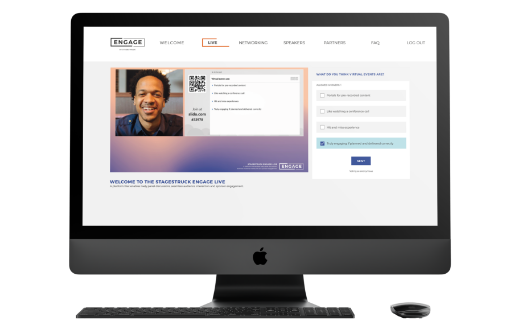 ALLOWING FOR MULTIPLE LEVELS OF AUDIENCE INTERACTION
DISTINCT AREAS ARE SET UP FOR SPEAKER AND PARTNER (SPONSOR) INFORMATION.
THESE ARE QUICK AND EASY TO ADD AND AMEND INFORMATION IF REQUIRED
TECHNOLOGY & SUPPORT
AT THE HEART OF ENGAGE LIVE IS THE VCR (VIRTUAL CONTROL ROOM) THAT INTEGRATES WORLD- LEADING SOFTWARE AND PLATFORMS, SUCH AS AMAZON WEB SERVICES, WIRECAST, VIMEO LIVE, GOOGLE CLOUD AND GLOBAL CDN FASTLY
THE VCR IS MANAGED BY A DEDICATED STAGESTRUCK TEAM OF ONLINE BROADCAST SPECIALISTS TO ENSURE SEAMLESS AND SECURE DELIVERY OF YOUR VIRTUAL EVENT
IN ADDITION TO THE BUILT-IN TOOLSET, THE VCR HAS BEEN DESIGNED WITH THE CAPABILITY TO ALSO INCORPORATE CLIENTS' OWN PREFERRED INTERACTION TOOLS IF REQUIRED, SUCH AS SLIDO, POLL EVERYWHERE OR VEVOX
ONGOING VCR DEVELOPMENT WILL INCLUDE MULTI-PLATFORM INGEST FOR ON-SCREEN PARTICIPANTS, VIRTUAL EXPO SPACES, GREATER NETWORKING OPPORTUNITIES AND MORE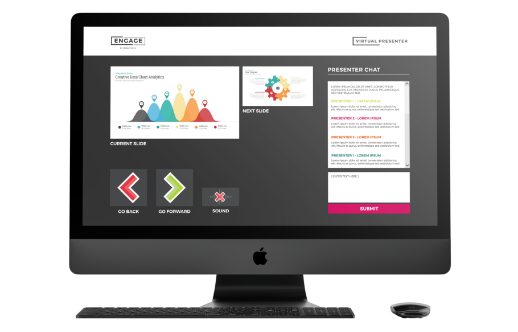 VIRTUAL Q-LIGHT
THE VCR TEAM ALSO SUPPORT WITH PRE-EVENT SET-UP, TESTING AND REHEARSALS
ALL MEDIA IS SUBMITTED TO THE VCR TEAM AND CHECKED DURING TESTING AND REHEARSALS
THE VIRTUAL Q-LIGHT GIVES THE PRESENTER THE ABILITY TO CONTROL THEIR MEDIA PLAYOUT WHILST VIEWING THE CURRENT AND NEXT SLIDES FUNCTIONALITY AS PER TRADITIONAL SPEAKER SUPPORT
A PRESENTER CHAT ROOM IS ALSO AVAILABLE TO ALLOW THE MODERATOR TO COMMUNICATE WITH PANELLISTS AND EVENT PRODUCER TO ALLOW FOR A DYNAMIC AND FLUID PANEL SESSION
ENGAGE – virtual events delivered by real people
Holding events in today's world is more challenging than ever.
However, the importance of continuing to bring people together to learn, debate, share and interact is just as critical as before.
Stagestruck's ENGAGE virtual event platform uniquely combines our extensive event production expertise with world-class technology to provide our clients with a truly impactful solution with which to still deliver dynamic events during these demanding times.
Our dedicated virtual events team will be pleased to assist you in exploring how ENGAGE can provide you, your clients and your audiences with a genuinely engaging, interactive and tailormade experience.
For more information please contact us at: info@stagestruck.com